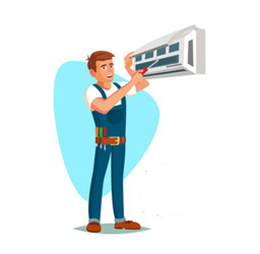 Heat Pump Servicing And Repairing
Following a heat pump installation from the friendly team of technicians at Comfy Kiwi Homes, your relationship with temperature-controlled comfort can begin – but our assistance doesn't end there. To help you gain longevity, efficiency and optimal use from your newly installed unit, here's how our heat pump servicing and repairs can help maintain a comfy home.
What Does Heat Pump Servicing Involve?
Cleaning the unit: Our technicians typically clean the heat pump inside and out to remove any dust, dirt or debris that has accumulated over time.

Checking the refrigerant levels: Measuring the refrigerant levels in the unit allows us to top them up if necessary. Proper refrigerant levels are essential for the unit to operate efficiently and effectively.

Checking the air filters: By checking the air filters we'll know to clean or replace them if necessary. Clean air filters will maintain good indoor air quality.

Checking the electrical connections: Your Comfy Kiwi technician will check all of the electrical connections in the unit to ensure that they are secure and free of any damage or corrosion.

Checking the fan blades: We'll inspect the fan blades and clean or adjust them if necessary to ensure that the unit is operating smoothly and quietly.

Inspecting the outdoor unit: Comfy Kiwi Homes will ensure the outdoor unit is clear of any debris or obstructions and that the fan is operating correctly.
Faulty fan: Heat pumps rely on a fan to circulate air. If the fan is not working properly, it can affect the unit's performance. A qualified technician can diagnose the issue and replace the fan if necessary.

Refrigerant leaks: Low refrigerant levels can cause the heat pump to work harder than necessary and lead to higher energy bills. A technician can locate and repair any leaks.

Thermostat issues: A malfunctioning thermostat can cause the heat pump to run continuously or not turn on at all.

Compressor problems: The compressor is a critical component of the heat pump and can experience issues such as motor failure or electrical issues. Allow Comfy Kiwi Homes to diagnose and repair these issues as needed.

Frozen coils: Frozen coils can be caused by a variety of issues, including dirty air filters, low refrigerant levels or a malfunctioning fan. We can locate and replace.

Electrical issues: A number of electrical problems could be affecting the performance of the heat pump and even pose a safety risk. 
Residential heat pumps should be serviced at least once a year in New Zealand to ensure they are operating efficiently and effectively, and to comply with the heat pump warranty. Regular maintenance can help to prevent breakdowns, extend the lifespan of your heat pump, and ensure that it is operating safely. Usage patterns, local climate conditions and living in an area with high levels of allergens may require more frequent servicing. 
Heat pump servicing carried out by a non-expert can cause more harm than good. Specific maintenance requirements vary depending on the make and model of your heat pump unit. Our qualified technicians clean and inspect the unit, check the refrigerant levels, replace any worn or damaged parts, and perform any necessary repairs. They will also check the air filters and clean them if needed, which can help to improve the indoor air quality in your home and keep the system running smoothly. For these reasons, it is best to receive the help of a professional for your annual servicing.
Not cleaning your filter can first and foremost cause your heat pump to either decrease in efficiency or, worst, allow dangerous bacteria to grow and flow into your home. The main reason filters must be cleaned is to avoid these issues from arising and keep your heat pump from failing.
FOR ALL YOUR HEAT PUMP & AIR CONDITIONING SERVICES,
COVERING WARKWORTH TO THE BOMBAY HILLS!
We recently got 2 Panasonic heat pump installed by Comfy Kiwi Homes, We are satisfied with them, Comfy Kiwi Homes is professional, friendly and quick in action

David Surjo


February 25, 2023

What an awesome company to deal with, I highly recommend contacting Comfy Kiwi Homes, from first contact I found them to be pleasant and informative, no question was left unanswered. Friendly staff and great products. Thanks again.

aceforstace


September 25, 2022

The installer team were great, they've done a fantastic job and happy to answer any questions we had. Overall the whole experience with comfy kiwi homes has been a+

Nick Hofmann


September 25, 2022

We had Purchased 3 Heat Pumps for Comfy Kiwi Homes and their Service was Excellent. Recently One of the Heat Pumps was not Working and when I called up I got Sammy on the Phone who was Extremely Helpful and Very Kind and Solved my Problem. Very Good Company – Highly Recommended.

Joseph Gomes


September 25, 2021

Second time we've used Comfy Kiwi Homes and again their service has been efficient, friendly and great all round. Many thanks!

M 'Aholelei


September 25, 2021

We recently had a Panasonic heat pump installed by Comfy Kiwi Homes and have been very happy with the process from start to finish. Very professional and reliable service provided by Sean and his team. We would happily recommend this company to anyone wanting to install a heat pump.

Amanda Lee


September 25, 2020

Got CKH to install a heat pump in my home last year. Was super impressed with their service and professionalism. I recommended them to several people who also used them. Just getting them back now to install a heat pump in my rental property. As usual, high standards, super professional, great value. I just wouldn't go anywhere else.

Felicity Buche


September 24, 2020

We had the team from Comfy Kiwi install a central heating unit in our house and they were great to deal with. Sean offered some great advice around selecting the right system to do the job and I was very happy with the result. Cheers!

Luke Dane


June 22, 2020

Very happy with the service from Comfy Kiwi Homes, a special thanks to Sean for keeping us updated and pushing things forward - he was very understanding that we had a new born on the way and made sure we had the heat pump installed right away. And thanks to Laura as well for keeping a close eye on EECA website to make sure we were approved right away. Would highly recommend Comfy Kiwi Homes to anyone.

Lizzie Blackburn


May 26, 2020